From a Design perspective, our approach was one of simplicity, scalability and high performance.
Early on we reached for a high-capability AV over IP solution that would enable the design to withstand multiple display types, locations and performance benchmarks.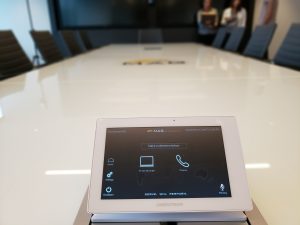 Across over 60 networked endpoints we were able to design a system that was both centrally manageable and versatile enough to account for presentation, conferencing, signage and IPTV use cases across the Enterprise. No performance lag was evident, regardless of whether the user was engaging in video conferencing, watching Cable TV via an ingested HDCP compliant signal, or regular presentations from multiple input signal types (HDMI, DisplayPort, USB-C).
The user interface was a top priority in terms of uniformity, intuitiveness and ease of use. We were able to add-on functionality to more capable rooms without increasing the learning curve among all levels of users thanks to the ease of implementation and technological integration.
From an IT perspective, having a centrally managed AV platform not only decreased the expected need for additional technicians, but also the physical gear footprint was reduced by decentralizing what would otherwise have been a massive central switching fabric along with all the necessary rack space, cooling, etc. Leveraging the existing category cable for signal paths made everything cost less as well.